Whip Check Hose to Tool Safety Cable
---
Hose whip check is made of corrosion resistant & high strength galvanized steel, aluminium, copper or stainless steel which on installation diverts strain from the coupling to the whip check. Whip checks will give the operator an opportunity to shut down the air hose quickly and safely if couplings disconnect at high pressure, preventing any injury occurred.
Installation of hose whip check is easy and requires no tools. The spring loaded loops of the whip check are opened and slipped over each hose providing a firm grip on the hose and avoiding it from whipping in case of accidents. Whip checks are commonly used on hose for air, water blast, drilling, steam, concrete, sandblast or other high pressure applications.
Product Features:
» Made of high strength galvanized steel, copper or stainless steel
» Highly resistant to rust and corrosion
» No tools needed - easy to install and remove
» Hose to tool service, one spring loop end and one wide adjustable loop end.
Whip Check for Hose to Tool
Part Number
Description
Material
Pressure Rating (PSI)

WCT1

1/8" Wire for Hose 1/2" to 1 1/4", 20 1/4" Long

Steel wire with Aluminium ferrules

200

WCT3

3/16" Wire for Hose 1/2" to 2", 28" Long

Steel wire with Aluminium ferrules

200

WCT2

1/4" Wire for Hose 1 1/2" to 3", 38" Long

Steel wire with Aluminium ferrules

200

WCT4

3/8" Wire for Hose 4", 44" Long

Steel wire with Aluminium ferrules

200
Whip Check for Hose to Hose
Part Number
Description
Material
Pressure Rating (PSI)
Whip Check Hose to Hose Safety Cable

WCH1

1/8" Wire for Hose 1/2" to 1 1/4", 20 1/4" Long

Steel wire with Aluminium ferrules

200

WCH3

3/16" Wire for Hose 1/2" to 2", 28" Long

Steel wire with Aluminium ferrules

200

WCH2

1/4" Wire for Hose 1 1/2" to 3", 38" Long

Steel wire with Aluminium ferrules

200

WCH4

3/8" Wire for Hose 4", 44" Long

Steel wire with Aluminium ferrules

200

Whip Check Hose to Hose Copper Ferrules

WCH1-C

1/8" Wire for Hose 1/2" to 1 1/4", 20 1/4" Long

Steel wire with Copper ferrules

200

WCH3-C

3/16" Wire for Hose 1/2" to 2", 28" Long

Steel wire with Copper ferrules

200

WCH2-C

1/4" Wire for Hose 1 1/2" to 3", 38" Long

Steel wire with Copper ferrules

200

WCH4-C

3/8" Wire for Hose 4", 44" Long

Steel wire with Copper ferrules

200

Whip Check Hose to Hose Stainless Steel

WCH1-SS

1/8" Wire for Hose 1/2" to 1 1/4", 20 1/4" Long

Stainless Steel with Copper ferrules

200

WCH3-SS

3/16" Wire for Hose 1/2" to 2", 28" Long

Stainless Steel with Copper ferrules

200

WCH2-SS

1/4" Wire for Hose 1 1/2" to 3", 38" Long

Stainless Steel with Copper ferrules

200

WCH4-SS

3/8" Wire for Hose 4", 44" Long

Stainless Steel with Copper ferrules

200
Usage / Applications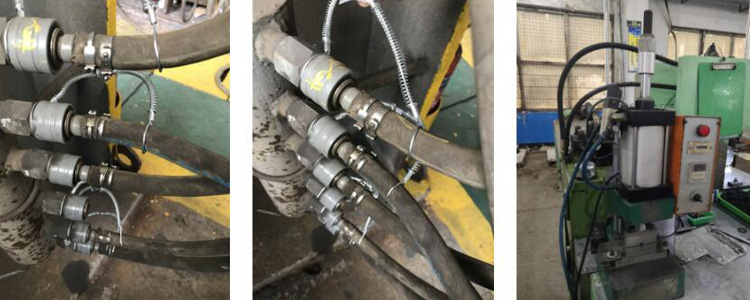 Standard Packages